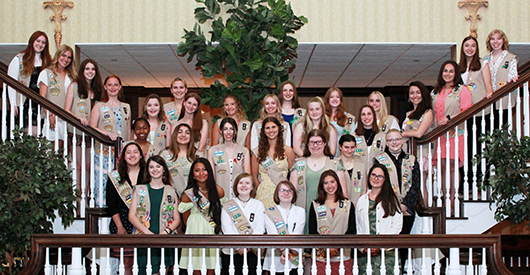 Congratulations to Our 2021-2022 Gold Award Girl Scouts!
The Gold Award is the highest achievement in Girl Scouting and the preeminent leadership award for high school girls. A Gold Award Girl Scout, no matter her background or ability, learns to tap into the world-changing power within her. She identifies an issue that's important to her and develops and implements a sustainable solution with measurable impact for her community and beyond.
We are exceedingly proud of these young women and offer our sincerest congratulations for all they have achieved. They are the leaders of tomorrow, and we confidently leave the future of Girl Scouting in their very capable hands.

Congratulations to Our Gold Award Girl Scouts on Earning the Highest Award in Girl Scouts!
Join Girl Scouts of Suffolk County as we celebrate our 2021-2022 Gold Award Girl Scouts. These Girl Scouts identified an issue they care about and led a team to create lasting impact in their communities—and beyond. They have changed the world, changed their lives, and earned the most prestigious award in Girl Scouting.
Date: Thursday, June 2, 2022
Place: East Wind, 5720 Route 25A, Wading River, NY 11792
Time: Check-in begins at 5:30 pm; Program begins at 6:00 pm.
Cost: No charge for Gold Award Girl Scouts • Guests: $65/Person
Due to the venue capacity, only 450 tickets will be available. All tickets are on a first-come, first-serve basis. Reservation deadlines will be strictly enforced due to the facility's policies. 
Gold Award Girl Scouts: Please dress in business casual attire and with your Girl Scout vest or sash for pictures.
How to Register
On our Eventbrite page, click "Register", then click "Buy on Map". You will be able to select which table you'd like to sit at. If you select the number of tickets you'd like to purchase instead, you will be automatically assigned to a table randomly. 
All tables are assigned; however, seats will not be assigned during the event. Seating will be first-come, first-served. GSSC reserves the right to amend table selections.
Congratulatory Messages on Kudoboard
Post a message for our Gold Award Girl Scouts congratulating them for their hard work and dedication to making their community and the world a better place. We will showcase the messages at our Gold Award Ceremony and on social media. Share with friends and family too.
---
Send in your Yearbook Headshot and Project Photos
Your headshot photo should be high-resolution (300 DPI) and at least 2 inches tall. You can send in a School Photo, Senior/Graduation Photo, or a Professional Headshot. If you do not have one of these, please have a family member take a photo of you wearing your Girl Scout Vest or Sash with a plain white t-shirt, blouse, or polo underneath. No selfies. 
If you are scanning in your headshot photo, please set your scanner for high quality. You can use free phone apps to scan photos such as Google Photoscan or Tiny Scanner.
We'd love to include photos of you working on your projects and your journey to Gold.