Our Campgrounds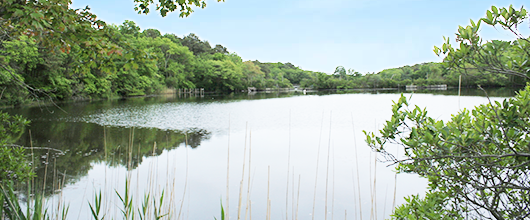 Camp Edey
Camp Edey was first incepted in 1941 near Sag Harbor. In 1945, the camp's Board of Directors voted to establish the camp in Bayport. Today, Camp Edey is located on 95 sprawling acres on the beautiful Sans Souci Lakes, has two pools, an archery range, miles of hiking trails, and even a frog-friendly pond. 
The Juliette Low Friendship Center, a community center, is also located at Camp Edey. It hosts many council-wide events, programs, and training workshops.
Did you know?  Camp Edey was named after Sarah Birdsall Otis Edey, Bellport resident, suffragist, and accomplished poet. Mrs. Edey served as the National President of Girl Scouts of the USA from 1930-1935, and to date is the only woman from Long Island to have served in that capacity. 

June 27 - August 26, 9 Weekly Sessions, For Girls Only
Summer camp is more than just a chance for fresh air and a break in her screen time. Girl Scout summer camp helps increase girls' interest, confidence, and competency in the outdoors in a fun and safe space.

Girls learn new skills with the backing of a global sisterhood that helps them expand their horizons while they connect with the world around them. And at Camp Edey, girls have the chance to make new friends, gain confidence, and have awesome new experiences! Register your girl for camp today for a summer she will never forget.

Camp Sobaco
Camp Sobaco, nestled on 42 acres in the heart of the Pine Barrens on the banks of the Carman's River, is the home of the Discovery World STEM Center. Camp Sobaco also has miles of hiking trails, a treehouse, a large archery range, and a pool.
The STEM Center provides children with exciting and interactive experiences as they embark on a journey to discover a whole new world through experiments and demonstrations, special guest presentations, and immersive activities.