Welcome to the GS Shoppe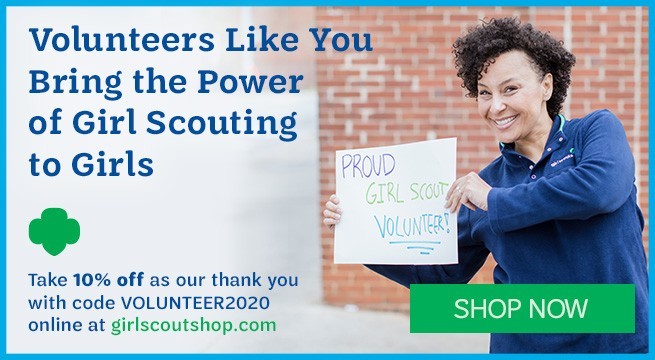 FREE Bag With Purchase of My Girl Scout Kit
Great for New & Bridging Girl Scouts! 
Select from the Girl's Guide to Girl Scouting, select insignia, uniform items, badge requirements, journey books, and much more. Purchase $60 or more from one Girl Scout level and receive a FREE drawstring bag! 


Gear Up With Girl Scout Cookie Kits & New Apparel!
Simplify your cookie sales with a Cookie Booth Kit or a Cookie Walkabout Kit. Plus, show your Girl Scout Cookie spirit with a Cookie Team Hoodie or a Bite, Dunk, Repeat Cookie T-Shirt.

Showcase GSSC With NEW Apparel
Limited Items Available! GSSC Sherpa Fleece, GSSC Pajama Pants, & Girl Power Dolman Shirt. In-store only.
Commack

Main Office
442 Moreland Rd.,
Commack, NY 11725
631-543-6622 x258
apicariello@gssc.us

Hours of Operation

Mon.: 9am-5pm
Tue.: 9am-6pm
Wed.: 9am-6pm
Thur.: 9am-7pm
Fri.: 9am-5pm
1st Sat. of 
Month: 9am-1pm
(Dates: 2/1, 3/7, 4/4, 5/2, 6/6)
Sun.:CLOSED

Bayport

Camp Edey
1500 Lakeview Ave., 
Bayport, NY 11705
631-472-1625 x300
vschubert@gssc.us

Hours of Operation 

Monday-Friday:
9am-5pm 
(Closed 1-2pm)
Sat.-Sun.: CLOSED

Riverhead

East End Office
854 East Main St., 
Riverhead, NY 11901
631-369-9757 x103
dperlman@gssc.us

Hours of Operation

Monday-Friday:
9am-5pm 
(Closed 2-3pm)
Sat.-Sun.: CLOSED

Summer Hours & Locations
Commack

Main Office
442 Moreland Rd.,
Commack, NY 11725
631-543-6622 x258
apicariello@gssc.us

Hours of Operation

Monday-Friday:
9am-3pm  
Sat.-Sun.: CLOSED

Bayport

Camp Edey
1500 Lakeview Ave., 
Bayport, NY 11705
631-472-1625 x300
vschubert@gssc.us

Hours of Operation 

Appointment Only. 
Please Call Ahead.

Riverhead

East End Office
854 East Main St., 
Riverhead, NY 11901
631-369-9757 x103
dperlman@gssc.us

Hours of Operation

Closed for 
the Summer