Gold Award Ceremony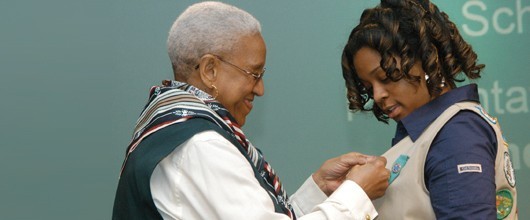 Congratulations to Our Gold Award Girl Scouts on earning the Highest Award in Girl Scouts
We invite you to celebrate your hard work and dedication at the Girl Scouts of Suffolk County Gold Award Ceremony
Date: Thursday, June 6, 2019
Place: East Wind, 5720 Route 25A, Wading River, NY 11792
Time: 5:30pm 
Cost: No charge for Gold Award Girl Scouts • Guests: $42/Person
RSVP by Friday, May 17, 2019
Please dress in business casual attire and bring your vest or sash for pictures.
---
Send a Congratulatory Message to Your Gold Award Girl Scout in the Yearbook
See last year's yearbook for inspiration - View Here


Congratulations to Our Gold Award
Girl Scouts of 2018-2019
The Gold Award is the highest award a girl can earn in Girl Scouting, where girls must complete a sustainable project that meets an expressed need in the community. Congratulations to all of our dedicated and inspirational Gold Award Girl Scouts!  Read about their projects in our yearbook and see photos from our ceremony.