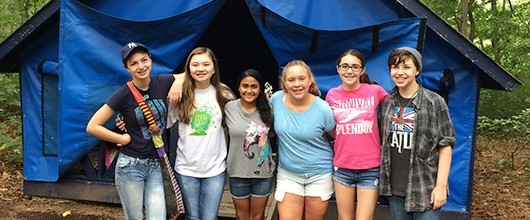 Getaway Weekend
At Camp Edey, Bayport
No Cooking, No Planning, No Training!
Getaway Weekends are exciting and innovative overnight weekend programs for girls and adults. These weekends can be a troop activity or a terrific parent-daughter adventure!  
Getaway Weekends offer special themes and fun activities that encourage girls and adults to work together in relaxed and picturesque outdoor environment. Best of all, no cooking, planning or training is needed for these awesome weekends!
In addition to the special theme activities, you'll sing songs around the campfire, enjoy s'mores, gaga ball, paddle boating (weather permitting) and get a taste of the camping experience.
Check In: Friday: 5 - 6:45 pm (Dinner served until 7:15 pm)
Check Out: Saturday: 5 pm (Breakfast and Lunch Served )
Cost: $39/person
Menu Subject to Change
Fall 2019
October 4-5: Hooked on Fishing!
Work with our trained staff and discover the fun of fishing in this hands-on program—all equipment provided! Learn how to safely bait and cast a fishing rod in our own San Souci Lake and be the first to hook a colorful sunfish in our catch and release program!
October 11-12: Pop Goes the Easel!
Learn the technique of Pointillism made famous by Georges Seurat. Blend colorful dots together to form an image. Create your piece of art that is all your own!
October 18-19: Rake, Pile, Leap!
Let's leap into some fun fall activities! Hike camp during our Signs of Fall Scavenger Hunt, create an upcycled birdfeeder and more as we take in the fresh fall air!
October 25-26: Having a FANGtastic Time!
Join Girl Scouts at our Halloween-themed Getaway Weekend! We'll thrill you with spooktacular games, like our mummy wrap race, candy corn relay, mystery box challenge and learn how to make magnetic slime!
Menu
Menu Subject to Change
Friday Dinner
Baked Ziti with Salad, Bread Roll, and Dessert
Refreshments include Pink Lemonade or Water
Saturday Breakfast
Pancakes with Sausage and Fruit
Refreshments include Orange Juice, Apple Juice, Water, Coffee, and Tea
Saturday Lunch
Hot Dogs with French Fries and Salad
Refreshments include Pink Lemonade or Water

Please note: 
While we encourage all adults attending to become Adult Registered Volunteers, it is not a requirement. 
Daisy Girl Scouts must each be accompanied by an adult. 
Please review our Getaway Weekend Procedures
Refund Policy:  All deposits are non-refundable. Refund requests must be made in writing using our online form at least 48 hours prior to program's start. Refund requests for medical reasons must be verified in writing by a physician. Refunds are not considered for no-shows.