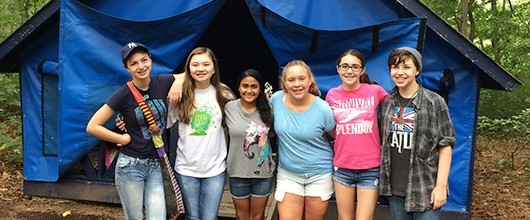 Getaway Weekend
At Camp Edey, Bayport
No Cooking, No Planning, No Training!
Getaway Weekends are exciting and innovative overnight weekend programs for girls and adults. These weekends can be a troop activity or a terrific parent-daughter adventure!  
Getaway Weekends offer special themes and fun activities that encourage girls and adults to work together in relaxed and picturesque outdoor environment. Best of all, no cooking, planning or training is needed for these awesome weekends!
In addition to the special theme activities, you'll sing songs around the campfire, enjoy s'mores, gaga ball, paddle boating (weather permitting) and get a taste of the camping experience.
Check In: Friday: 5 - 6:45 pm (Dinner served until 7:15 pm)
Check Out: Saturday: 5 pm (Breakfast and Lunch Served )
Cost: $39/person
Menu Subject to Change
Spring 2020
Dates

Themes & Descriptions
May 1-2
Every Day is Earth Day!


What can you do to Save the Planet?  Learn from an Environmental Educator how making small changes can have a big impact!  Design and make your own Earth Day pin.

May 15-16
Bendy Beans
Learn yoga postures and breathing techniques from a certified yoga instructor from Bendy Beans.  Play games, dance and get zen with Girl Scouts!
May 29-30
Bubbles, Bubbles Everywhere!
Bring out your inner scientist to create a DIY bubble solution, colored bubbles and magical wands!  Have a bubble blast with the Girl Scouts!
June 5-6
Day at the Races!
It's a mash-up of crazy and fun races!  Test your skills in our potato sack, soccer, three-legged races and much more.  Be the first to reach the finish line!
June 12-13
Grip It and Rip It
Come play golf with a twist—Disc Golf!  In disc golf, use your Frisbee throwing skills to aim discs into a basket using the fewest number of throws. Up for the challenge?
Menu
Menu Subject to Change
Friday Dinner
Baked Ziti with Salad, Bread Roll, and Dessert
Refreshments include Pink Lemonade or Water
Saturday Breakfast
Pancakes with Sausage and Fruit
Refreshments include Orange Juice, Apple Juice, Water, Coffee, and Tea
Saturday Lunch
Hot Dogs with French Fries and Salad
Refreshments include Pink Lemonade or Water

Please note: 
While we encourage all adults attending to become Adult Registered Volunteers, it is not a requirement. 
Daisy Girl Scouts must each be accompanied by an adult. 
Please review our Getaway Weekend Procedures
Refund Policy:  All deposits are non-refundable. Refund requests must be made in writing using our online form at least 48 hours prior to program's start. Refund requests for medical reasons must be verified in writing by a physician. Refunds are not considered for no-shows.