Welcome to the GS Shoppe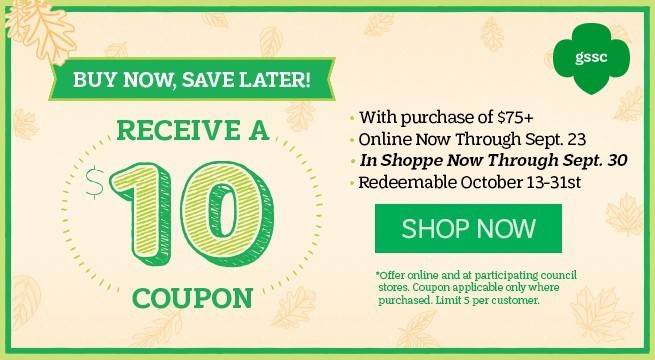 OFFER EXTENDED: Get the $10 coupon with purchase of $75+ before October 1 in-shoppe only! Visit our shoppes in Commack, Bayport or Riverhead and get this deal!

Mark Your Calendar: The Fall Fling is BACK!

Date: Thursday, September 26, 2019 • Place: All GS Shoppes 
Save 10% Off the whole shoppe (even clearance!) PLUS Save even more on specialty items, enjoy snacks, bonus prizes, and fun!

Memory Books Have Arrived!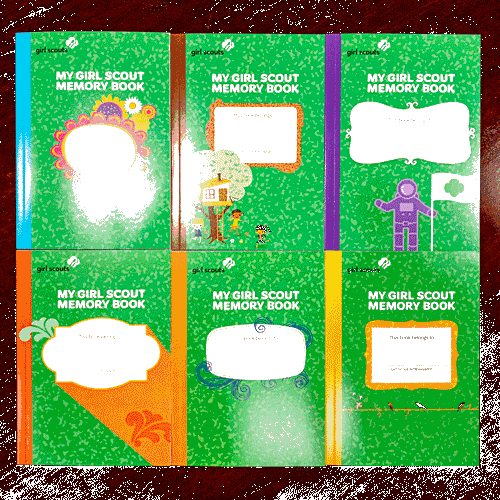 Cherish your Girl Scout memories! 
These books lists badges, Journeys, & highest awards currently available in a fun journal format for girls to customize and make their own. This book also includes space to write or draw about their favorite camp and service project memories, and to set goals for the cookie program and fall product program. A fun resource for girls, troops and leaders.

The Adult Uniform Vest Is HERE!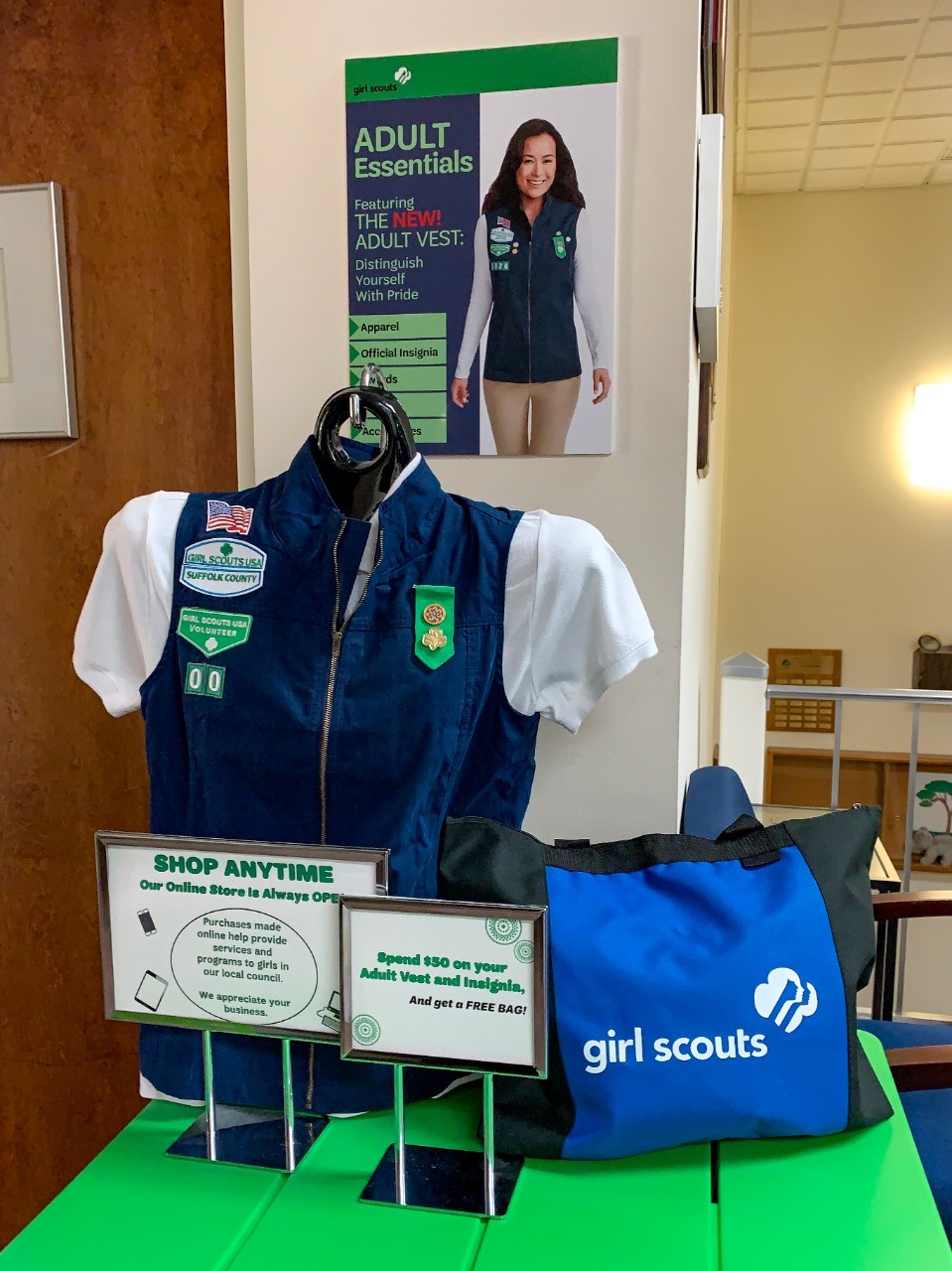 You've asked and we've answered!

Proudly showcase your insignia and awards on this official, navy vest. The stand-up collar, goldtone zipper and welt pockets are among the special details that pull together your official look. Lightly brushed cotton/nylon twill. Purchase your Adult Vest and insignia and get a great Girl Scout bag for free. While supplies last. Come by our council shops to try on your vest today!

You Can Earn a FREE Patch!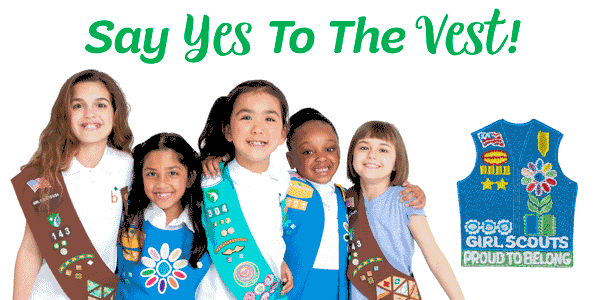 The wearing of uniforms unites girls as Girl Scouts. Your Girl Scout can proudly show off her newfound skills through her patches, reflect on her years of progress as she counts her gold membership stars, and connect with the longer tradition of Girl Scout sisterhood with the World Trefoil pin.

Show off your pride and earn a FREE Patch! Here's how:
Post a picture of your Troop/Girl Scout in their Girl Scout Uniform, tag us on Facebook and/or Instagram and use #sayyestothevest and #sayyestothevestgssc (Post must be public to view)
Fill out this online form with your Troop's/Girl Scout's information to earn the patch.
Commack


Bayport

Riverhead

Main Office
442 Moreland Rd.,
Commack, NY 11725
631-543-6622 x258
apicariello@gssc.us

Hours of Operation

Mon.: 9am-5pm
Tue.: 9am-6pm
Wed.: 9am-6pm
Thur.: 9am-7pm
Fri.: 9am-5pm
1st Sat. of
Month: 9am-1pm
(Dates: 9/7, 10/5, 11/2, 12/7, 2/1, 3/7, 4/4, 5/2, 6/6)
Sun.:CLOSED

 

 

Camp Edey
1500 Lakeview Ave., 
Bayport, NY 11705
631-472-1625 x300
vschubert@gssc.us

Hours of Operation 

Monday-Friday:
9am-5pm 
(Closed 1-2pm)
Sat.-Sun.: CLOSED

East End Office
854 East Main St., 
Riverhead, NY 11901
631-369-9757 x103
dperlman@gssc.us

Hours of Operation

Monday-Friday:
9am-5pm 
(Closed 2-3pm)
Sat.-Sun.: CLOSED
Upcoming Closings
October 12-14 - Columbus Day
November 9-11 - Veteran's Day
November 28-30 - Thanksgiving Day
December 24 - January 10 - Holiday Week & Inventory
January 18-20 - Martin Luther King Day

Summer Hours & Locations
Commack


Bayport

Riverhead

Main Office
442 Moreland Rd.,
Commack, NY 11725
631-543-6622 x258
apicariello@gssc.us

Hours of Operation

Monday-Friday:
9am-3pm 
Sat.-Sun.: CLOSED

 

 

Camp Edey
1500 Lakeview Ave., 
Bayport, NY 11705
631-472-1625 x300
vschubert@gssc.us

Hours of Operation 

Appointment Only.
Please Call Ahead.


East End Office
854 East Main St., 
Riverhead, NY 11901
631-369-9757 x103
dperlman@gssc.us

Hours of Operation

Closed for
the Summer