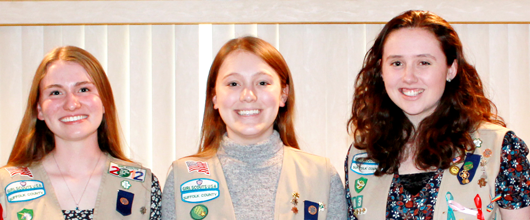 Past Presidents Scholarships
The Board of Directors established the Past Presidents Scholarship Fund in 1988 to award educational scholarships to outstanding Ambassador Girl Scouts in the following categories: Academic Achievement, Community Service, Girl Scouting, and Personal Challenge.
Applicants for the 2018 Past Presidents Scholarship must meet the following criteria:
Be a registered and active member of the Girl Scouts of Suffolk County.
Be a 2018 graduating senior who is continuing her education.
Be an outstanding Ambassador Girl Scout, who has contributed to Girl Scouting and her community through her performance and her accomplishments.
Provide two references substantiating community service and/or academic achievement:  one from a Girl Scout volunteer and one from a school official or community liaison of her choice.
Submit a completed application, most recent high school transcript and two references by Friday, March 2, 2018.
The scholarships will be awarded to five qualifying graduating Ambassador Girl Scouts in the spring of 2018.