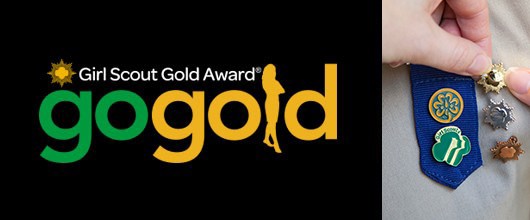 Gold Award
The Girl Scout Gold Award is the highest award a Girl Scout can earn. Once achieved, it shows colleges, employers, and your community that you're out there changing the world.
Join a century of women who have done big things. Learn more about Gold Award, the history of the Gold Award, and the benefits of going Gold. 
You can pursue your Girl Scout Gold Award if:
 

You're in high school (ninth through twelfth grade, or equivalent) 
 

You're registered as a Girl Scout Senior or Girl Scout Ambassador
 

You have completed two Senior or Ambassador Journeys OR earned the Girl Scout Silver Award and completed a Journey
 
GSSC's Gold Award Steps
The Gold Award project should meet an expressed need in the surrounding community, therefore encouraging girls to reach out beyond the Girl Scouting community. The project provides an opportunity for girls to enhance their leadership skills, career interests, and personal values. Completion of the Gold Award allows young women to become a member of the group who has received the highest recognition within the Girl Scouting organization.

Go for Gold Training (Recommended)
We recommend that Senior and Ambassador Girl Scouts attend Go for Gold training before starting any aspect of their Gold Award project.  See training dates for 2017-2018 on our program list. Please Note: For leaders/advisors to attend, they must be accompanied by the girls. No walk-ins. You must register for training. 




GSUSA Gold Award Registration
All Gold Award candidates must register for Girl Scouts' Go Gold at girlscouts.org/gogoldonline

In addition, you must complete GSSC's Gold Award Project Hours form which is a part of the Girl Scouts' Go Gold registration.

Review Process
Once you have completed these first few steps, our Gold Award team will review each candidate's registration and proposal.

You will be contacted by our Gold Award team with any questions or clarifications to continue your journey, including scheduling an in-person interview with a Gold Award mentor.
Gold Award Interview 
You will be emailed a link to schedule an appointment. 
Appointments are scheduled at 15 minute intervals. All interviews will be conducted at the Main Office in Commack unless noted otherwise.

Final Report
After your interview, you will work on your project and communicate with your Gold Award mentor as you continue on this journey to Gold. Once your project is completed, you will fill out a Final Report form on what you did, everything you learned, etc. 

From here, you will become part of this prestigious group of young women who are changing the world!