G-Team TV: By girls, for girls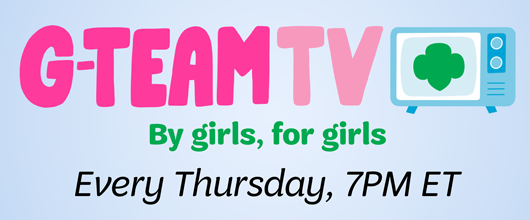 Location:
@GirlScouts Instagram TV
Level:
Cadette, Senior, Ambassador
Episode 4: Innovation for Good
Girls and women who are championing new ideas to make the world a better place, in everything from tech, fashion, and entrepreneurship.
Introducing G-Team TV! This new online show for middle and high school girls is run by a group of Girl Scouts called the G-Team. Each episode features special looks at key issues for girls and interviews with accomplished Girl Scout alums. A new episode airs every Thursday at 7:00 PM ET @Girl Scouts on IGTV. Plus, find every episode on Girl Scouts' YouTube channel.