Ghoul Scout Haunted Trail
Celebrate Halloween with a spooky walk through our haunted trail created by older Girl Scouts. Our storytellers will share a scary tale while guiding you through our wooded campgrounds. Will the stories be true? Come and find out if you dare...
This event may have scenes or stories that may be scary. We do not recommend this event for Girl Scout Daisies & Brownies (Grades K-3). Please use your own discretion when bringing children to this event. 
Dates & Times: (Rain or Shine)
Thursday, October 27, from 6:00-9:00 PM
Friday, October 28, from 6:00-10:00 PM
Saturday, October 29, from 6:00-10:00 PM
Place: Camp Edey, Bayport (Directions)
Cost:
Regular Ticket: $20 per person. Includes admission and glow-in-the-dark Haunted Trail event patch. (Door price is $30)
Deluxe Ticket: $25 per person. Includes admission, glow-in-the-dark Haunted Trail event patch, and trick-or-treat tote bag.
Registration ends October 26 or when sessions are full. Due to limited capacity, we recommend Troops attend with only safety-wise coverage needed to give more girls the opportunity to participate. All sales are final. No Refunds.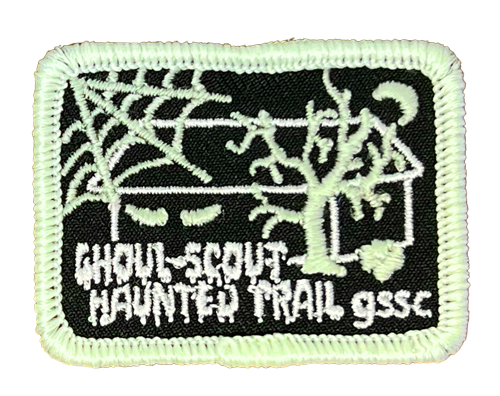 Haunted Trail Patch
(Glow-in-the-dark)
Event Information & Guidelines:
The trail goes inside buildings and outside through our campgrounds, so please dress for the weather and wear closed-toed shoes/sneakers.

Trick-or-Treating on the trail: purchase a Deluxe Ticket and get a themed tote bag or bring your own bag to collect candy.
Volunteer For The Haunted Trail (For Cadette and Up) *Updated*