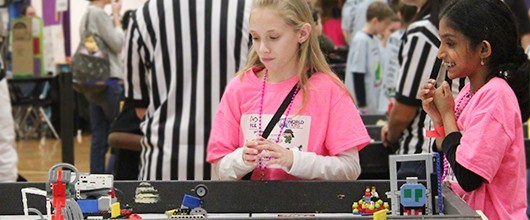 Robotics
Imagine taking on some of the biggest challenges and problems facing our planet—and helping solve them through robotics and STEM. That future can be a reality! GSSC is excited to offer robotics programs to girls in a variety of ways:
Robotics Program
Girls can work together to design their own robots after learning how they're built and programmed. "Unplugged" activities allow girls to earn badges without buying kits. Girls who participate in robotics programs become better problem-solvers, critical thinkers, and inspirational leaders. They get better grades, earn scholarships, and follow more lucrative career paths. Girls also see STEM as the foundation for a meaningful and successful future.

Robotics Teams
You can also participate in the Junior First LEGO League (Jr. FLL), First LEGO League (FLL), and First Tech Challenge (FTC). In these robotics competitions, Girl Scout teams, led by adult volunteers, build and program mechanical robots that must solve a real-world problem linked to a particular theme.
These teams help build self-esteem and confidence in young women, allowing them to work together in a nurturing environment. They creatively problem-solve while developing their cognitive, social and engineering skills.
There are other ways for girls to participate in the robotics team. Our teams are also looking for girls to help with  researching ideas, photography, marketing, and fundraising. Teamwork makes the dream work!
GSSC's FLL and FTC teams have enjoyed great success, taking home championships at various tournaments. Join a team today!