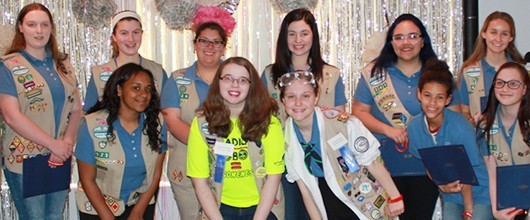 Academy of Innovation
Be Part of GSSC's STEM Elite!
Immerse yourself in an exciting world of innovative and one-of-a-kind STEM opportunities, while gaining hands-on experience and unique insight into the fascinating careers and fields available through STEM!
Participate in exciting hands-on workshops and activities in Science, Technology, Engineering and Mathematics (STEM).
Take behind-the-scene excursions to explore STEM related activities.
Meet experts in the STEM Field.
Learn about STEM-related career paths.
Tell us your story of Innovation!  Finish your journey with an opportunity to inspire other young Girl Scouts to explore the world of STEM by sharing your experiences at an end of the year pinning ceremony and STEM celebration!

You must be a registered Girl Scout Cadette (grades 6, 7, or 8) to apply. Each Academy class is limited to 24 students.

Participation Expectations
Academy participation is a 2-year commitment. Such a commitment encourages dedication and follow-through on various ongoing projects and activities, providing a more enriching experience.
Attend and participate in monthly meetings to include discussions, field trips and behind-the-scenes excursions.
Share your experiences with the community through media events, videos, and social media.
Plan and present STEM activities to younger Girl Scouts at the end of the year STEM celebration.