Preschool is an exciting place to be! You meet new friends, try new things and have a lot of fun preparing for kindergarten. It also presents lots of opportunities to learn about being a good friend and helping others. 
Girl Sprouts is a fun, educational program designed to introduce preschool age girls to the values that will help them thrive—the values of Girl Scouts. For over 100 years, our mission has been to build girls of courage, confidence and character, who make the world a better place.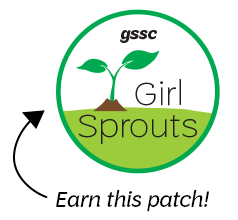 The Girl Sprouts Activity Booklet walks you and your girl through a flower garden where she will participate in five skill building activities that will increase her confidence and prepare her for kindergarten and Girl Scouts. 
Start her Girl Sprouts adventure today! Sign up and you will be emailed your activity booklet. Print and complete all the activities with your Girl Sprout and bring it into one of our GS Shoppes to earn her first free patch. 


Questions? Email GirlSprouts@gssc.us